Chelsea Old Town Hall, London
The Chelsea Art Society's 73rd Annual Summer Exhibition took place in June 2022. The Open Art Exhibition is an established annual event, based at Chelsea Old Town Hall and has been running since 1994.
South Terrace N22 was selected to participate in the group exhibition along with a number of local artists.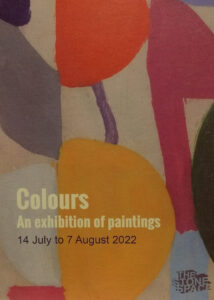 This exhibit was curated by Matthew Macaulay. In it he brought together contemporary artists who use colour as a central component of their practice.
The works shown explored the interaction of colours and the reactions that arise in their infinite combinations.
For this exhibition, Picnic Ice-Cream was presented, this piece investigates the possibilities of colour, shapes with the act of painting. Picnic Ice-Cream  que indaga las posibilidades del color junto con las formas y el acto propio de la pintura.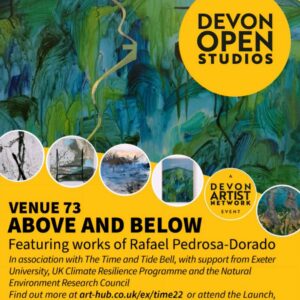 As part of Devon Open Studios 2022, "Above and Below" was presented. This was an exhibition based on the Time and Tide Bell initiative along with a programme of performances, readings and workshops, in collaboration with the University of Exeter, England.
The Time and Bell Project was first conceived in 2008 by Marcus Vergette (artist, sculptor, bell maker) and now includes 7 completed bells along the UK coast.
For this exhibition, the piece High Tide was presented,  which alludes to the biological and natural wealth offered by the seas and rivers through the play of colour, organic shapes, brushstrokes and of painting itself.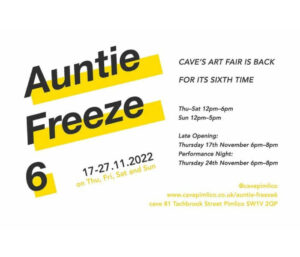 Auntie Freeze 6 was an exhibition held in November 2022 at the Cave Pimlico gallery space in London.
Based on an open call, the works presented were part of an eclectic set in which different artistic themes and practices were mixed, giving rise to open conversations, fostering the meeting of local artists and diverse audiences.